Zimbabwean exiles have gathered outside the country's embassy in London to celebrate the arrest of Robert Mugabe.
Many of them are members of the Zimbabwe Human Rights Organisation, a UK charity which has protested weekly against the abuses of the Harare government.
On Wednesday they came to celebrate what they hope is the fall of Mugabe. We spoke to some of them.
'Fifty-fifty chance'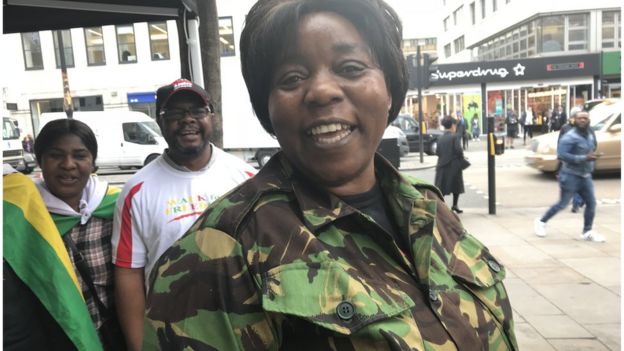 Chipo Parirenyatwa is 50 and is Chair of the Zimbabwe Human Rights Organisation.
She came to the UK in 2000 after her husband was forced to flee the country because of his opposition to the Mugabe Government.
"I am happy with what's happened but today is a comma not a full stop. We need real change.
"Mugabe and his family treated the country as their personal possession and a lot of people are very loyal to them.
"I don't know how the army will do but I am optimistic there need to be elections in a peaceful manner with the international community involved. I think there is a fifty-fifty chance of that happening."'
'No jobs'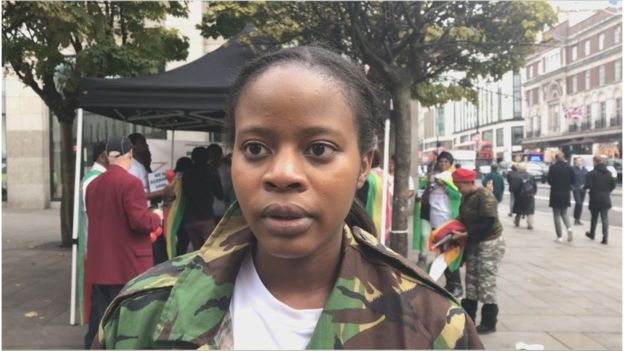 Nancy Mukurira is 22 and came to study in the UK.
"I was unable to pay my school fees because of the economy back home, I was also running away from the corrupt system in the country because I was a member of the opposition party.
"The president has been ruling for 37 years.
"As citizens we are trying for new leadership. There's poverty and no jobs. We need constructive reforms and leaders who are able to listen to the voice of people."
'Corruption is always there'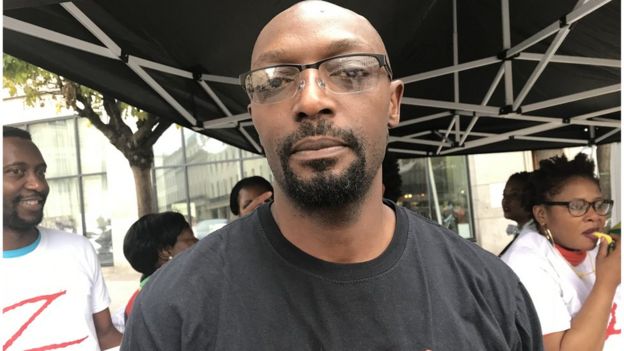 Phillip Mahlahla is 43 and has been in the UK for five years. He left Zimbabwe to seek political asylum.
"I am happy that it looks like Robert Mugabe has gone, but they need to make sure the whole family is out of power in order to stop the corruption.
"Corruption is always there in Zimbabwe not matter who is in charge.
"If the army can establish a government they will try to eliminate it for a couple of years, maybe even weeks but it will be back."
'Soft coup'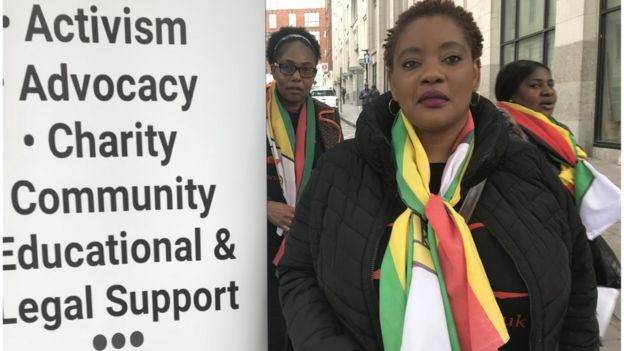 Roseline Mukucha, 41 fled persecution and came to the UK in 2005.
"I publicly spoke against the government and was threatened for years, the threats got worse and I was scared for my life so I left.
"I think this is a step forward in the right direction. The army are trying to stop what is going on with the government who have abused human rights for too long.
"At the beginning he [Mugabe] was fine but he's now brought the country to ruins. This soft coup has given us hope."
Internal struggle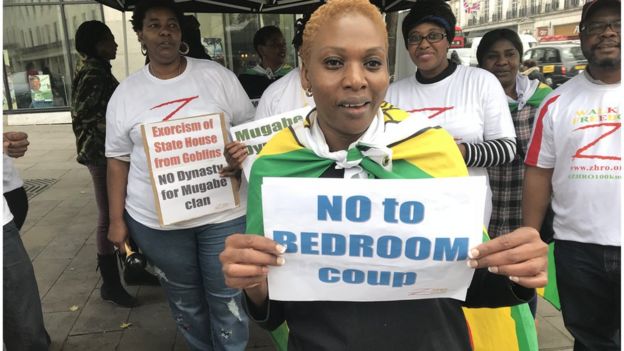 Sarah Bayisayi, 41 been in the UK for 16 years. She says the coup is a struggle within Mugabe's governing party.
"This is a step in the right direction and it's a relief to get rid of Mugabe, he is finished now,
"I hope his family is too, Zimbabwe is tired of this dynasty. We need something new, this is still Zanu PF versus Zanu PF and the junta are still eating at the same plate as Mugabe.
"Life is a book and this is a new chapter but we need a new story"
'Streets are empty'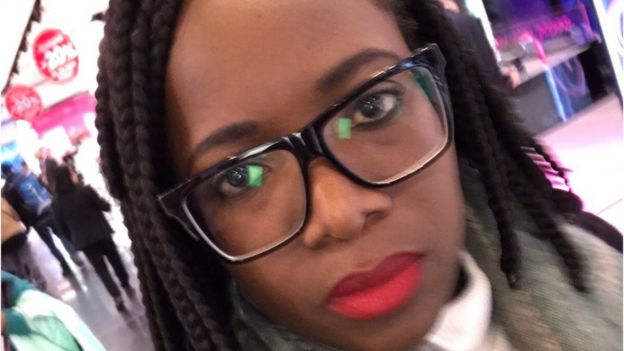 Lorrain Mudzimu, 34, came to join her family in the UK in 2000 but was not part of the embassy demonstration.
"I'm scared for my family and friends back home, I went to Zimbabwe in March for my dowry and everything seemed fine but now the streets are empty.
"People have had enough of the government. We have a president who drinks £500 bottles of champagne but people are living in poverty, and women in labour have to bring their own birthing gloves to the hospital.
"The new generation have no work ethic because there are no jobs. More needs to be done."